ALUMNA ESTABLISHES RESIDENT ASSISTANT SCHOLARSHIP THROUGH SIMPLE BENEFICIARY DESIGNATION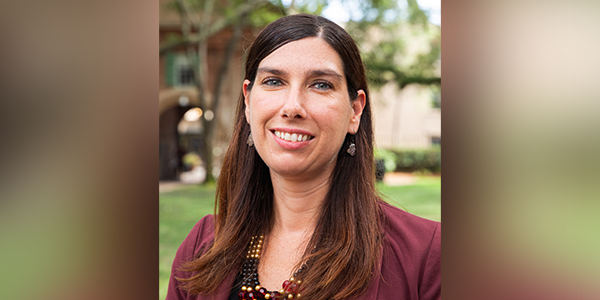 Melantha Ardrey '02 - Director of Residence Life, College of Charleston
Melantha Ardrey wears many hats as the director of residence life. On a typical day, she can be found working with students in the residence halls, classrooms, TD Arena and Cistern Yard. She has been a part of the CofC family for more than 20 years and continues to be a passionate supporter of students' success. We sat down with Ardrey to talk about her planned gift, which will establish scholarships for resident assistants at the College.
Q: What were some significant experiences you had at the College that helped you get where you are today?
A: One significant experience was encountering severe homesickness when I first got to the College. It was such a different experience than what I was used to. Luckily, I found my sense of belonging after joining a student organization where I made life-long friends. I also started working as a student employee in the residence life office, which led to my current role as director of residence life.
Q: Looking back, can you identify skills you acquired at the College that you use in your current role?
A: I would definitely say relationship building, problem solving and developing a strong sense of values. College helps facilitate those skills so much and can be utilized no matter your career field.
Q: What inspired you to plan a gift to the College?
A: I've always loved the College and with the struggles of the pandemic, I saw the challenges our students had to overcome just to keep up. Resident Assistants (RA) were struggling to connect with students who desperately wanted connection, while having to socially isolate. Many students were dealing with financial challenges and there was an increase in mental health challenges for all of us. It was a difficult time to be a student and to be a student leader. Our staff - and students - were so adaptable, creative and resilient. It was really amazing to see. I found their stories so inspiring that the timing of my gift felt right.
The College has seen me through a lot, too - personal and professional growth, challenges and some of the best years of my life. I felt like this planned gift was also a way to honor my time and experience here.
Q: Why is the Residence Assistant Scholarship so important?
A: RAs are some of the most critical employees on this campus. They have a direct impact on student success and retention, while also juggling their own responsibilities as students. They are mentoring and helping students through one of the most significant transitions in their lives. RAs create a community where students can get engaged, meet other students and thrive inside and outside of the classroom. I felt it was important to recognize their impact in a significant way.
Q: What is a favorite memory or experience from your years as a student at the College?
A: Definitely going to basketball games at the old Johnson Gym when John Kresse was coach. We would wait in line for what seemed like hours to watch the team play. I will never forget when CofC beat the Tarheels in an out of town tournament in December of my first year. All the students went out into Calhoun street and started our own parade down King to the Market. That was so much fun!