Alumnus Supports Barber Shop Program Through Legacy Gift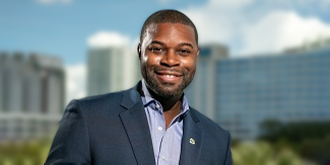 Nicholas Glover '05 didn't know what to expect when he arrived at the College. Looking back, he credits the Spectra program for easing the transition by helping him develop friendships and learn his way around campus before classes started.
"I wanted to get involved with the College so that first week I went to every event on campus," says Glover. "That's how I got involved with the student government association (SGA)." He stayed involved with the SGA all four years, serving the community as vice-president and president.
Glover says the support he received as an undergraduate at the College was invaluable. He's grateful to people like Karen Jones, director of communications for the office of alumni affairs who supported and mentored him every step of the way.
"Every aspect of my start in life is tied to the College. Now, as an alum, I want to have the opportunity to do that for someone else through a planned gift."
Glover and his wife thought long and hard about opportunities to have a lasting impact with their gift. "How to do my part was really important to me," he says. "My wife and I explored the different ways people our age were giving. The transfer of wealth is really important for people our age and it helps to be creative in the planning and decision-making process."
The couple decided to give to the Office of Multicultural Programs and Services to support the recently launched Barber Shop program. When he learned about the program, Glover was not going to let the opportunity to be engaged pass him by.
"The Barber Shop program is about recruiting minority students and providing them with support so they stay on campus. This is a high-touch method of engaging Black students," says Glover. "The foundation of the program is intentional, driven by data and consultation with people who are informed. Directing my donation to this program enables me to affirm the importance of the program."
The barbershop is designed to be a place on campus where BIPOC students can receive haircuts or styles in a welcoming space on campus. In addition to increasing the availability of these services catered to care for textured hair, which have been diminishing on the peninsula, the Barbershop will also host programs covering topics such as BIPOC male wellness, relationship building, processing familial situations or loss while focusing on academic success as they persistence to graduate. These programs will help students connect, find belonging, model leadership in the BIPOC communities on campus, and develop relationships with mentors within the Black Alumni Community.