Boyce Scholarship Proves a Lasting Legacy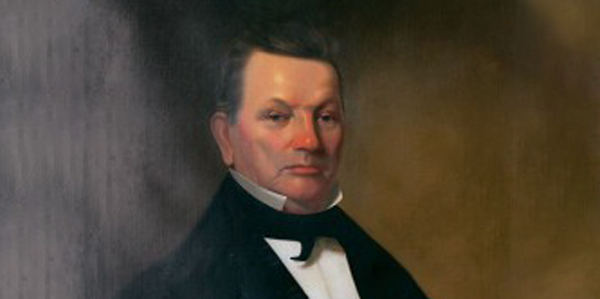 The heartbeat of a scholarship that began before the Civil War goes on.
"I am very thankful to the donor who made my Boyce Scholarship possible. Not only has it helped me complete my undergraduate education, but it also has paved the way for my continued education in graduate school," says Ben Schaffer '15, 2014-2015
Boyce Scholar.
The benefactor of Schaffer's scholarship was The Hon. Ker Boyce, a native of Newberry, S.C., who loved Charleston and was a city leader for decades. Boyce could not have imagined that the scholarship he bequeathed upon his death nearly 160 years ago would leave a legacy that continues to this day.
Boyce's original bequest to the College in 1856 was $30,000. In today's terms this equates to a gift of approximately $860,000 - a tremendous gift from a man who had no affiliation to the College. What fueled his gift was his love for the City of Charleston.
He began his career as a merchant before expanding into banking. Boyce chartered the Charleston Bank and later served as its president for several years. He was an active proponent of the enrichment of the City of Charleston and was known for his honesty and high character.
Since the late 1850s, recipients of the Boyce Scholarships have maintained the traits of their scholarship namesake. Many have enjoyed exceptional professional success after graduation, and they have paid it forward in their own way. In 1903, a bright, young CofC student, Horatio Hughes, received a $50 scholarship from the Boyce Endowment. Upon receipt, Hughes wrote a thank you note expressing how honored he was to receive the scholarship award, stating it to be "an incentive to put forth my best efforts to prove worthy." Hughes would go on to become a beloved chemistry professor at the College, establishing his own endowment, the Horatio Hughes Memorial Scholarship, another fund that is still awarding today.
A portrait of Boyce hangs in the front hall of the Sottile House, where the main office of the Division of Institutional Advancement is located. It is hard to tell from his serene expression if he imagined that his generosity would have such a boundless effect on so many lives, that the legacy of his generosity would endure and span centuries, that the heartbeat of his gift would continue beating strong in his recipients today.
This article was written by Emily Padgett, scholarship coordinator in the College's development office, for Momentum , the newsletter of the College of Charleston's Division of Institutional Advancement.