Scholarship Honors the Memory of Two Sons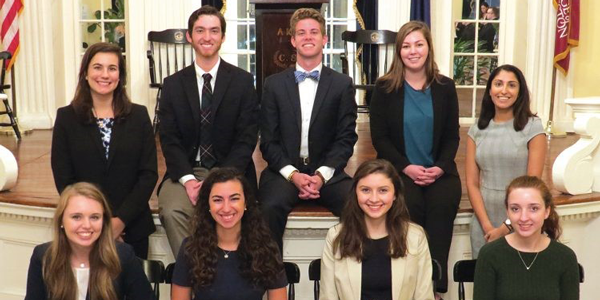 That well-burnished sentiment made famous by Thomas Wolfe that you can't go home again would likely have resonated richly with the lateLucian and Milward "Milly" B. Pinckney '51. After all, the proud Charleston natives and ardent supporters of the College chose to love both the school and the city from afar, spending the final years of their lives in Albuquerque, N.M.
However physically distant, the couple demonstrated a deep and abiding love of the home they had cultivated at the College. The affection started in the 1950s, when Milly was earning her undergraduate degree as a history major. It was then that she also began a courtship with her future husband, a Citadel cadet in the Class of 1951 and a member of Charleston's centuries-old Pinckney family.
This profound connection to place also inspired them to support the institution through both time and treasure. Milly, a sports enthusiast, once served as the College's director of women's athletics. And, from 1977 to 1978, she served as president of the College's Alumni Association, making her the second woman in the College's history to do so.
"It was the kind of devotion that you don't always see," says Yvonne duFort Evans '58, who became involved in the Alumni Association through Milly, her longtime friend. The two avidly supported the College's basketball team, frequenting games and sending the team off at the airport. "She really connected me on a different level."
Lucian Pinckney would have concurred. He once said of his wife, "It was in Milly's nature to give back to the College something of what she received, not monetarily, but intellectually and socially."
What's more, the couple's two sons found a home on campus; both pursued undergraduate degrees at the College. This gained all the more poignancy after their early deaths from an autosomal recessive genetic disorder: Lucian Jr. '79 died at the age of 28, and Peter, a rising senior, died at the age of 21. "They had a sad time with the two sons," says Evans, adding that it overshadowed some of their lives and ultimately made it too difficult for them to remain in Charleston.
In 1991, the couple began supporting the institution through giving that eventually grew into the Lucian Whitaker Pinckney Jr. and Peter Gilman Pinckney Endowed Memorial Scholarship Fund. This planned gift was created to provide academically outstanding students with scholarships to the Honors College.